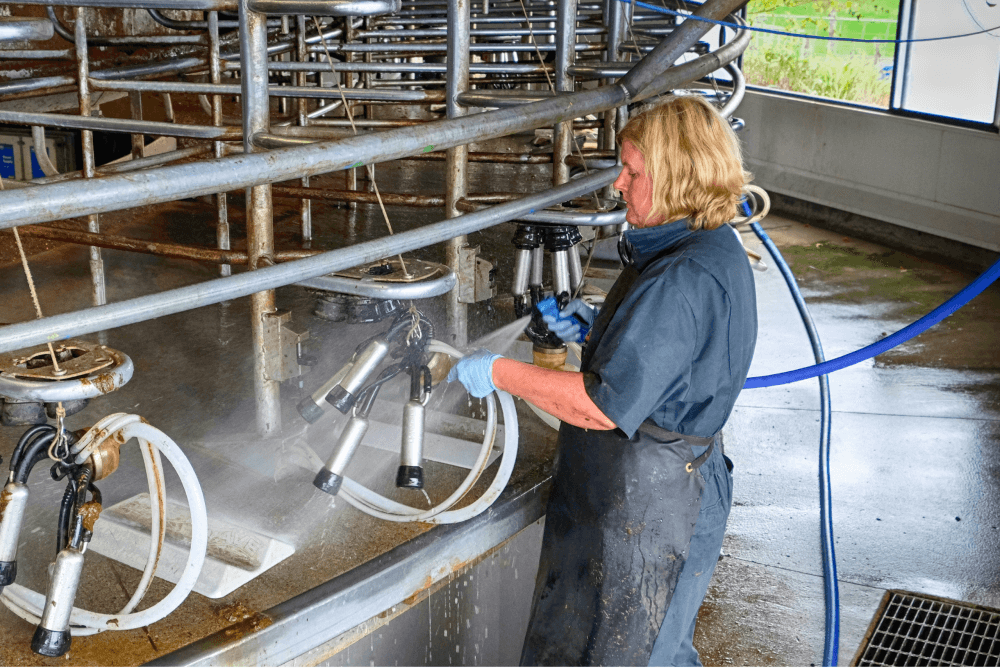 Choosing good quality dairy hygiene solutions is essential for consistent results on farm. Correct concentration of dairy detergent to water volume and the time given for circulation cleaners and bulk tank cleaners must be correct at all times.
Many dairy farmers are now being advised by their co-op to use chlorine free dairy hygiene products on both milking plant and bulk tank. Cleanline Farm Services offers a chlorine free Dairy Hygiene Programme with liquid and powder dairy detergents and disinfectants. 
Dairy hygiene is crucial for antibiotic free production and optimising dairy performance. Our dairy hygiene products are based on all-natural components. Most of our products are scientifically developed by Irish scientist and have proven their efficacy on Irish dairy farms.
Cleanline Farm Services took the ownership of the B.F.S. dairy hygiene formulations in 1993. Our dairy detergents & descaler product line was developed by B.F.S. in Germany 40 years ago. Since, the composition for these products have been the same, because constant results are more important than saving a few euros.
For new and big milk parlours with automatic wash systems, we advice our chlorine free liquid dairy detergent BFS XTREME-CLEAN C.F.
Regular acid descaling of milking machines and bulk milk tanks is essential. We offer a top quality food grade descaler from the BFS dairy hygiene product range.
Curious how we could help you to aid your daily dairy management routines? Contact us today or send us your WhatsApp message.